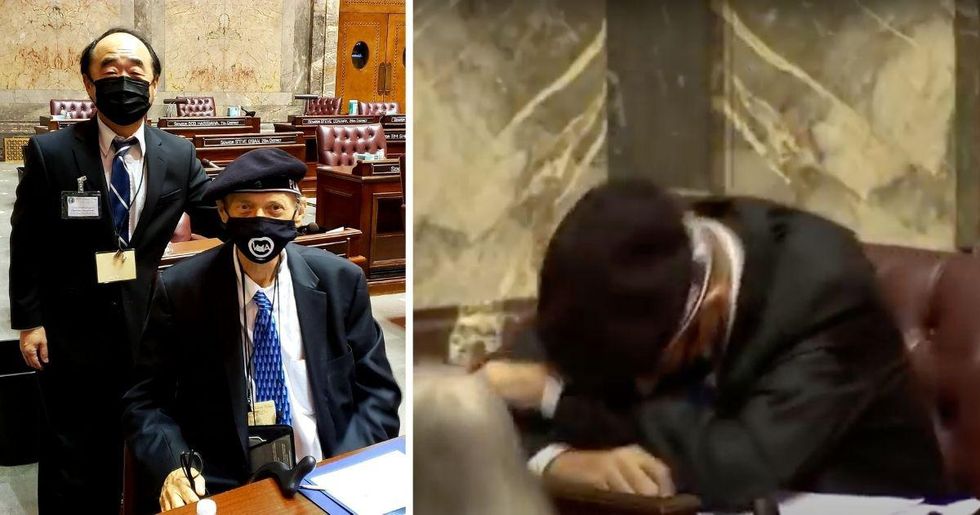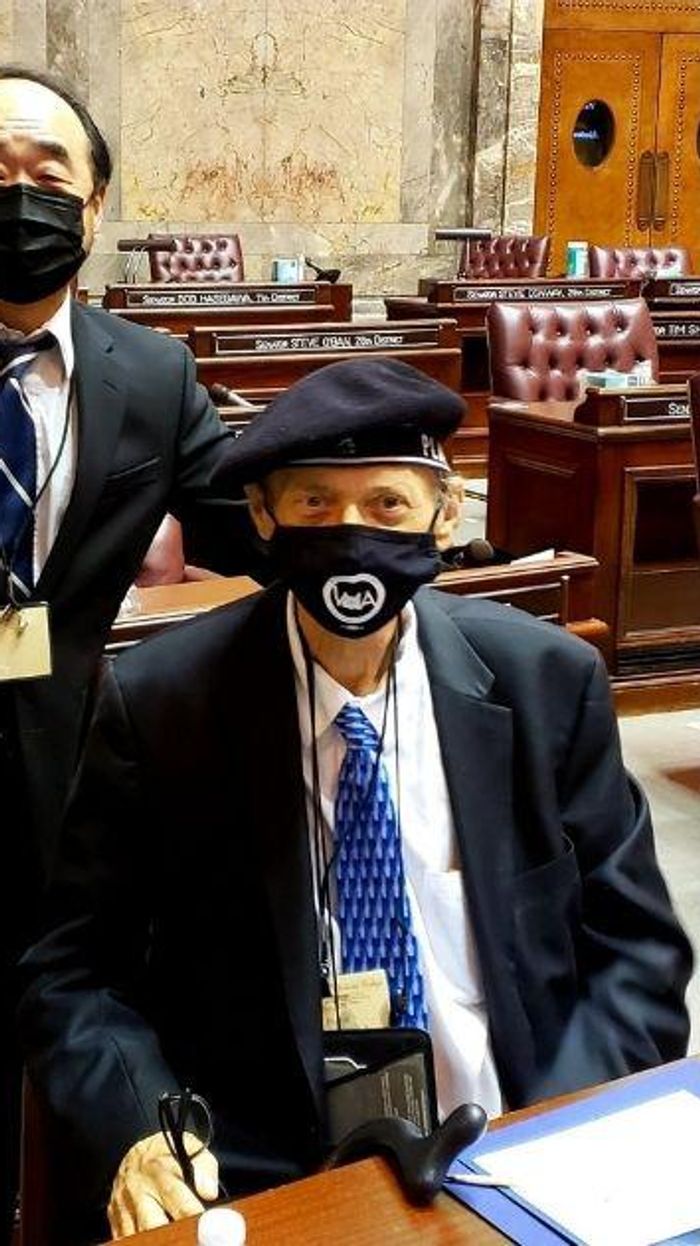 As all 50 states fulfilled their duty in the Electoral College to officially elect Joe Biden as the next President of the United States on December 14, a sadly beautiful scene unfolded in the Senate chambers of the Washington State Capitol.
Jack Arends is one of Washington's 12 electors whose job it was to cast their vote for Biden, as the former vice president won the state with 58% of the vote. But for Arends, executing that duty held a special significance. The 64-year-old elector arrived at the capital in a wheelchair, wearing a mask and a hat that read "PLAY NICE." And when it came time for him to say a few words about casting his vote, his brief speech cast a solemn, patriotic atmosphere throughout the room.
@Jim_Brunner Honored to help my friend Jack Arends cast one of the 306 electoral votes for @JoeBiden and… https://t.co/ZjyM7Itpd0 — Clarence Moriwaki (@Clarence Moriwaki)1607989210.0He began by thanking Washington's Democratic Governor Jay Inslee and Republican Secretary of State Kim Wyman, his fellow electors, and Democratic leaders for the kindness and support they'd shown him in the process of getting there.
"I have noted through this time that the electoral college is not great, but it is the system we have in place," he said. "Knowing that, I was set on being faithful elector, so I cast my ballot today for Joe Biden and Kamala Harris. I did so enthusiastically, of my own choice. I did not need a law to tell me I had to do it. Today is a chance to begin the end of the Trump administration. I was glad to do my duty, to rid our nation of a petty dictator. Had he won a second term, there is no limit to the damage he could have done to the world."
Arends then went on to make a sobering announcement.
"It will be up to others to do the hard work of rebuilding our nation, as my health is failing. In November I was told there is no more medical treatment that can help me, so it was important for me to do this one thing that I could do, while I still can. Again, thank you. And God bless our great country."
Arends then lay his head down on the table and openly wept.
Elector Jack Arends casts his vote for Joe Biden
The room burst into applause for Arends. The Everett Herald newspaper reported that Arends had actually received the news of his terminal heart condition just days after he was selected to serve as an elector. "I don't know how much time I am going to have on this earth, but I am going to make it count while I am here and that includes being an elector," Arends told the paper prior to the proceedings. "It's that one last box I want to check — I am determined to check it."
Another detail from Arends casting his vote is that he did so with a Sharpie pen instead of the traditional quill—a symbolic jab at Trump signing legislation with a black Sharpie.
"The ceremony and tradition of this meeting marked an end to one of the most contentious elections of our time," said Secretary of State Wyman, one of the many Republican state election officials who have defended the integrity of this election. "While some people continue to call into question this election, average citizens from all walks of life will step up today to exercise their responsibility to perform their constitutional duty."
"It's a great weight lifted from my shoulders being able to do this," Arends told The Herald after the vote. "I feel gratified to do what we were elected to do."
This is what true patriotism looks like. Thank you for your service, Mr. Arends.
Source: Terminally ill Washington elector openly wept after sharing what casting his ballot meant