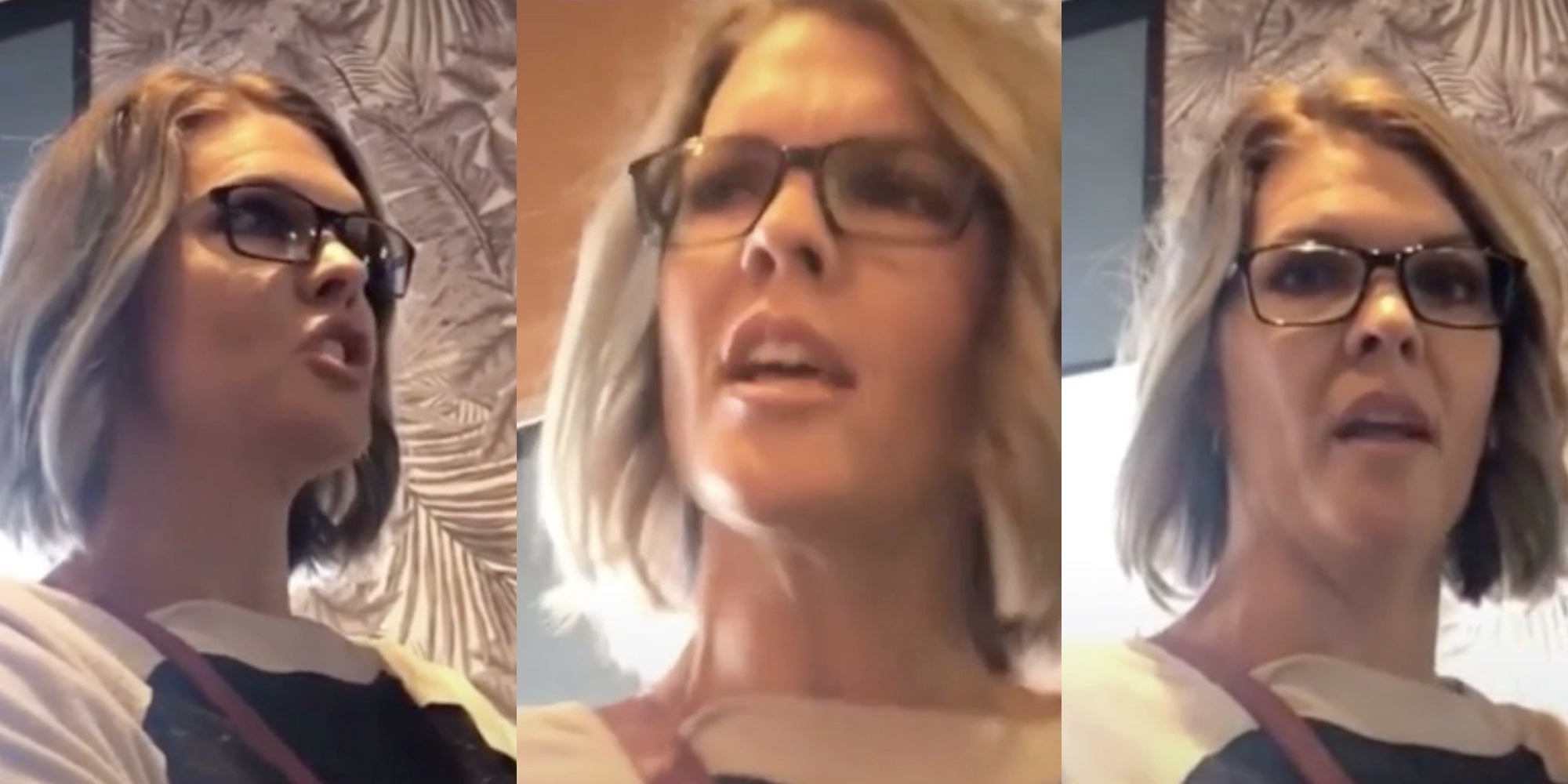 A video shared to the r/PublicFreakout subreddit by the user u/PlenitudeOpulence on Thursday shows another woman dubbed a "Karen" complains to a Starbucks employee about the mask requirements before realizing she's being filmed.
When the footage begins, the woman is in mid-conversation with the barista, who is informing her that he's happy to bring her order to her outside if she doesn't want to put on a mask. But she is apparently more interested in using the store's restroom and can't seem to believe, over eight months into the pandemic, that she is expected to wear a mask to do so.
"So you want me to go to the restroom—to wear a mask to use the restroom?" she asks.
"Yes," the barista tells her. "Anything beyond the door, you need to have a mask on. That's just the Starbucks policy."
The woman makes a sour face and accuses him of not caring "what [her] disability is."
"It's not about that. I can adjust my service to be able to help you," the barista responds, likely referring to how the Americans with Disabilities Act only requires businesses to provide reasonable accommodations for someone who genuinely cannot wear a face mask but does not require them to simply allow people to shop or be served in-store maskless at the expense of others' health.
It's not long after that that the woman finally realizes someone is standing right next to her recording. She immediately gets up in the face and reaches out toward the recording device.
While we never see the person recording, it's apparently a child, as another woman steps in and grabs the irate customer's arm to block her from her kid.
"Tell your child to stop videoing me. Come on. Teach your child some kindness," the maskless woman demands.
"Get the fuck out of here," the child's caregiver replies. "Look at what you're doing to this nice employee. Go."
Karen gets kicked out of Starbucks for not wearing a mask and tries to snatch a child's phone from PublicFreakout
Comments on the video were largely in support of the barista, who several people noted had likely dealt with this type of entitlement throughout the pandemic.
"This isn't the first time he's had that conversation," wrote u/fictitious. "Fucking assholes think they're the center of the world. No perspective."
"Probably his third Karen in that shift alone," added u/mikeymikeymikey1968.
Others were appalled at the audacity the woman had to reach for the kid who was recording.
"I'm not big on kids, but if you touch a kid like that because your entitled ass thinks you get to do what you want when you want, fuck yourself," said u/ExistentiallyTired.
And u/dystopian_mermaid pretty much summed it all up: "The cries for kindness from a woman who was unwilling to wear a piece of cloth over her nose and mouth to go to the public bathroom, and help curb the risk of possibly spreading a virus. Wooooooooow."
The video seems to prove that even as the coronavirus pandemic rages on in full force throughout most of the U.S., people are still refusing to wear masks while demanding service from private businesses.
The post Starbucks 'Karen' freaks out when she realizes a kid is recording her appeared first on The Daily Dot.
Source: Starbucks 'Karen' freaks out when she realizes a kid is recording her